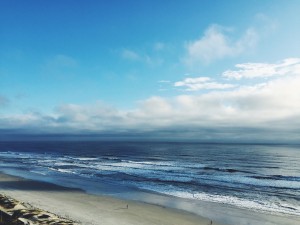 We are a part of a large, worldwide fellowship of believers who carry the message of Good News of Jesus Christ to children wherever they may be. Child Evangelism Fellowship® was founded in 1937 by Jesse Overholtzer. The initial training and equipping of men and women to reach boys and girls with the Gospel was begun initially in the San Francisco Bay area and then in Chicago, Illinois. CEF® has over 70 years of experience in providing curriculum, training, and opportunities to reach children with the gospel, and is actively expanding ministry into new nations and new areas within nations with a goal of reaching Every Child, Every Nation, Every Day.
The joy of reaching children for Jesus spread quickly. Here, in North County, San Diego, Good News Clubs® began as early as 1939 in Escondido. We often hear reports of the clubs that spread throughout North County including coastal and inland areas. One such club in Vista was the inspiration of a young Marine in the early 1950's who then went on to pioneer the ministry of CEF in Finland, Russia and the Baltic States.
Each decade has been marked by opportunities that were embraced as open doors to share the Gospel, like the outreaches among the Indian tribes in the 1940's, the Good News Clubs in Ramona and the fair ministries. They are also marked by the testimonies of those whose lives were changed by those ministries.
North San Diego County became a separate chapter in 1969. Since then, a number of leaders have directed the work, that the Gospel of our Lord Jesus Christ might be proclaimed to children; to disciple them in his Word, and to involve them in a local church.
As of January 1, 2015, we came under the governance of our state board, along with all the other Southern CA chapters, our name being changed to CEF of Southern California, Inc., North San Diego County Chapter. We look forward to what God will be doing next within the Good News Clubs, fair ministries and Summer 5-Day Bible Clubs®. He is faithful. What He has begun, He will complete; seeking and saving that which is lost. Luke 19:10